The Beau Chene Homeowners Association is very pleased to announce the appointment of Taylor Capouch to the Board of Directors.  Due to Paul Angelle's recent resignation from the Board, the Board of Directors filled the vacancy at their meeting on Friday, January 31, 2020. Taylor will serve as Director for the remaining term which ends in May of 2022. The Board is very excited to have Taylor as a member.  He has a passion for the neighborhood having grown up in Beau Chene and has now found his way back home to raise his family here.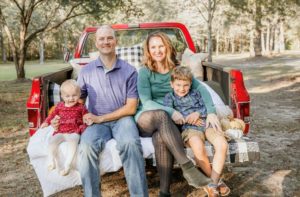 Taylor attended the local public schools including Mandeville Elementary, Mandeville Middle, Chinchuba (now PES), Mandeville Junior High and Mandeville High School. 
"I have many fond memories of growing up in Beau Chene, including the day I learned to ride my bike on two wheels, learning how to play golf, making best friends, exploring the woods, fishing, and playing basketball in the driveway. As I got older, I remember hosting Mandeville High School spirit meetings ahead of football games, the first day I drove a car by myself out of Beau Chene and mowing the lawn to my favorite music.  All in all, Beau Chene was where my fondest family and social memories were made."
After attending college at University of Wisconsin-Madison, Taylor stayed in Wisconsin to start his career.  Gaining valuable management and sales experience, Taylor chose to relocate back to Mandeville to focus on his growing family.  Taylor and his wife, Shannon, have two children. Their son, Kenny, is 5 years old and their daughter, Elizabeth, is now 21 months old.   
Taylor is now the Executive Director of the Kelly Gibson Foundation where he is able to focus on benefiting first responders and military personnel as well as youth athletic programming through the game of golf.  
 "I believe that Beau Chene currently is in a position of strength compared to other neighborhoods on the northshore regarding location, assets and people, and I want to take a leadership role in helping sustain and steer the neighborhood to new heights."