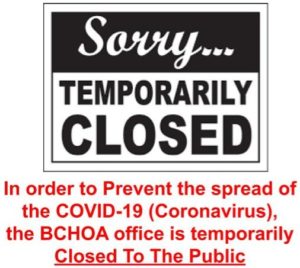 Beginning Tuesday, March 24, 2020, the Beau Chene Homeowners Association's administrative offices will be closed to the general public until further notice.  However, our staff will continue to work our normal hours (Monday – Friday from 8 am to 5 pm) and are available by phone, email and website inquiry. We are making this change to ensure the safety and wellbeing of our residents, visitors and staff members through this coronavirus outbreak. Please use our drop box in the parking lot if you want to hand deliver your dues payments.  You may also contact us via our website: https://bchoa.org/ at the lower right of the screen by hitting the CONTACT button.
BCHOA OFFICE CONTACTS:
Main phone number:  985-231-6285
General Info Email:    info@bchoa.org
Myrna Carroll, Admin. – myrnac@bchoa.org (Work orders for mailboxes, property transfers, vehicle decal & RFID tag questions, and general inquiries)
Rachel Kidwell, Accounting – rachelk@bchoa.org (Member account questions)
Bill Maier, BCHOA Manager – billm@bchoa.org  (Security questions, ECC applications & questions, and general questions)
Dave Vinson, Dir. Public Works – davev@bchoa.org (Drainage, sewer and water system questions)
For any water or sewer emergencies please call our main number at 985-231-6285 and press #3 for Lindsey. 
SECURITY GUARDS:
Main Guard Gate   985-845-7560
East Guard Gate    985-845-8495
Marina Guard Gate 985-845-7022
For all other emergencies call 911 
St. Tammany Parish Sheriff's office non-emergency number 985-898-2338
Sincerely,
Cristina Donovan, CAO